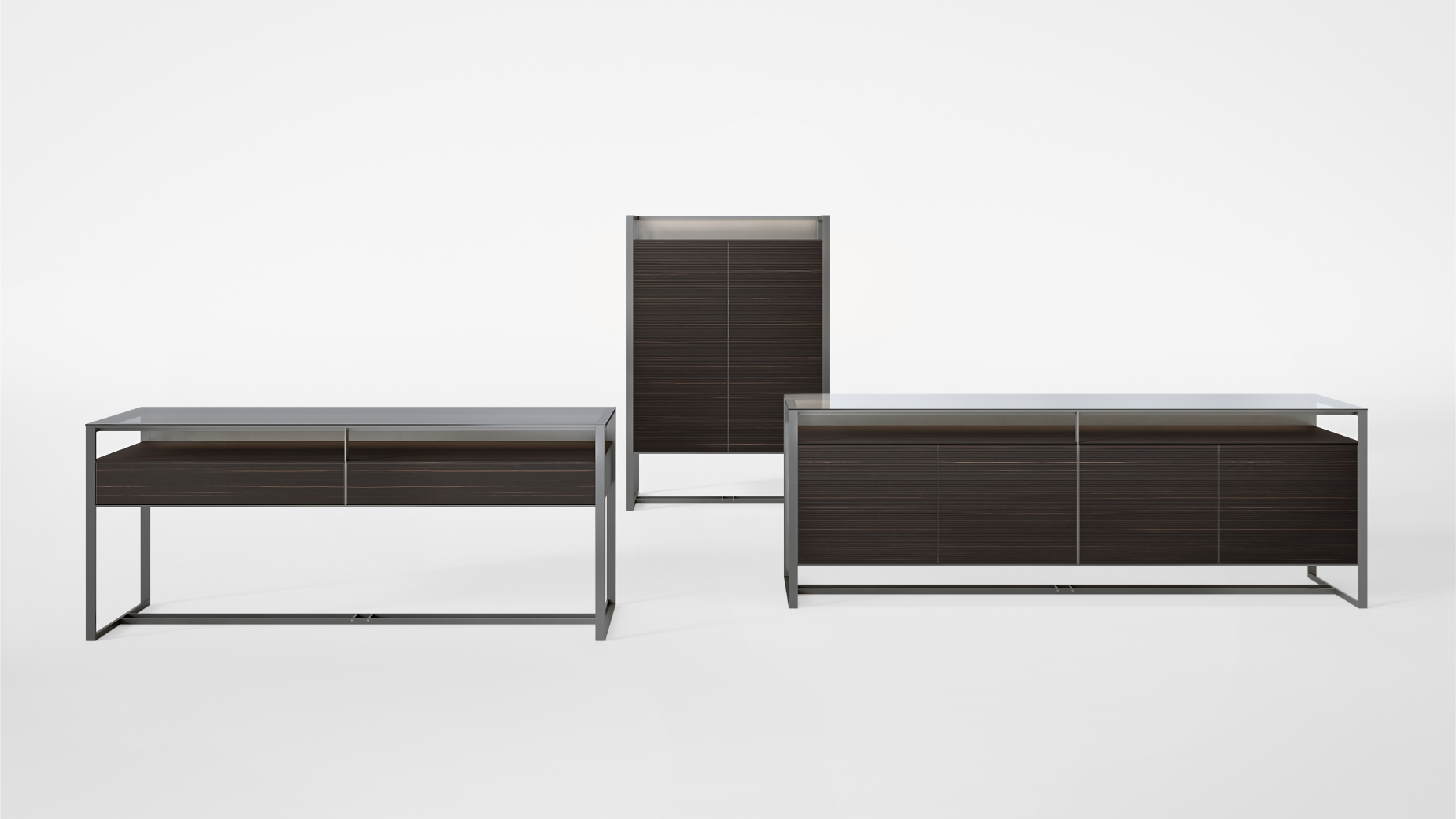 AIR, the new bidirectional pivot door system designed by Giuseppe Bavuso. An innovative proposal that fits into the company's design process: the progressive elimination of structural elements, such as jambs and frames, to create proposals that can be inserted into environments, making the most of the superior qualities of an exclusive material such as aluminum. A double-sided full-height solution flush with the wall with a minimal design conceived to recreate perfect continuity with the surrounding architecture, Air is the ideal solution for large rooms, thanks to always made-to-measure creations and broad compositional flexibility. The structure is designed to offer a wide range of aesthetic typologies and maximum functional quality.
RIALTO, the new collection designed by Giuseppe Bavuso: composed of six elements (sideboard, bar cabinet, console and three different tables), the family is characterized by a bridge element, hence the name Rialto, in extruded and welded aluminum which suspends the central containers and the support top. This particular structure gives lightness and transparency to the furnishings, which are thus light and suspended.
The system is characterized by external finishes such as Taiga ebony-stained wood essence or Sahara Canaletto walnut with a 3D effect. The internal drawers, with structure in light wood, are covered in Arena imitation leather or in the new Miele finish. The tops of the sideboard, the console and the coffee tables are made of transparent gray or light reflecting glass, with a silk-screened perimeter edge matching the structure. An indirect LED lighting system is provided for all the containers, while the mobile bar is internally equipped with a directional spotlight with presence sensor.
ALTAIR, the new double-sided container system designed by Giuseppe Bavuso, available in different sizes and intended for domestic spaces, such as walk-in closets, or public spaces, such as commercial places. The characterizing element of the system is the large drawer with double-sided opening, sliding on retractable guides that allow you to extract large elm trays on both sides, internally covered in imitation leather in the new exclusive Miele finish. Inside the removable trays there is space for specific equipment, also made of elm, and equipped with accessories such as containers with multiple or cross separators, designed to store glasses, jewellery, belts and ties. Altair is also characterized, on the front and back, by open compartments, drawers and large drawers with full extension push opening and soft close. The upper surface is made of gray transparent or light reflecting glass resting on two thin lacquered sides to match the structure.