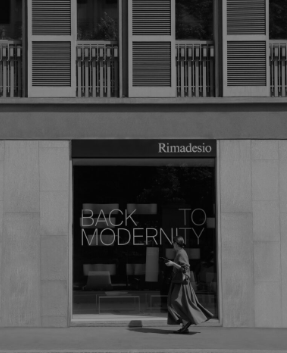 On the occasion of Milano Design Week 2023 Rimadesio presented the new projects inside the renovated Flagship Store
The new collection, designed by Giuseppe Bavuso, translates into a range of innovative and coordinated solutions, following an architectural interpretation of furniture that involves continuously updating the offers and redeveloping the finishes.
RIALTO, the new collection designed by Giuseppe Bavuso: composed of six elements (sideboard, bar cabinet, console and three different tables), the range features a bridge element, hence the name Rialto, in extruded, welded aluminium that suspends the central cabinets and the support top. This unusual structure gives lightness and transparency to the furnishings, which are thus airy and suspended.
ALTAIR, the new double-sided cabinet system designed by Giuseppe Bavuso, available in different sizes and intended for domestic spaces, such as walk-in wardrobes, or public spaces, such as commercial premises.