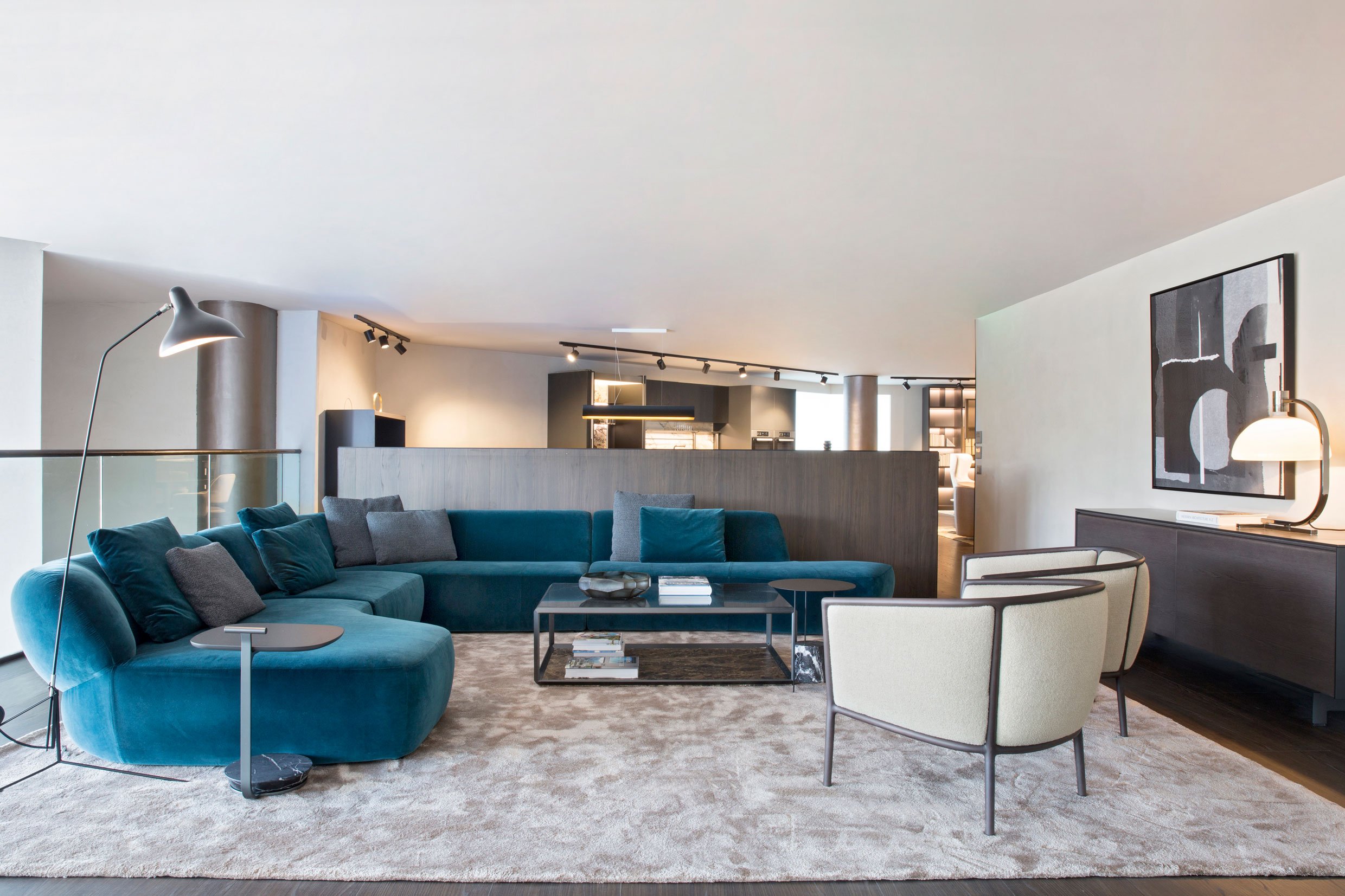 Molteni&C strengthens its presence in Athens, announcing the opening of its Flagship Store in collaboration with AVAX SA. The building is designed by Alexandros Tobazis, a notorious Greek Architect, and is characterized by its double height windows all around it, bathing it with daylight. The Molteni&C collections are showcased over 280m2 distributed between the ground and the first floor, surrounded by an area designed from the very beginning to form an exclusive neighborhood. The Flagship Store is located on Kifisias Avenue, one of the most important arterial roads of the city in the area of Halandri and is neighbored to some of the most high-end residential areas of Athens.
On entering the store, visitors are greeted by a multi-functional space, where the VVD kitchen, designed by Molteni&C creative director Vincent Van Duysen, paired with two Dordoni's Chelsea chair, welcome the guest in a warm and bright space, where the textures of wood and marble are enhanced by the natural sunlight passing though the big windows.The Hector bookcase and the Marteen sofa flank the kitchen composition, completed by pieces of the Gio Ponti Heritage Collection: The D.754.1 carpet and two of the iconic armchairs re-edited by the leading Italian furnishing company, the D.154.5 Round and the D.154.2 armchairs.
Going left, the Half a Square table and Devon chairs introduce the Intersection kitchen.
A Paul sofa and two Elain armchairs, together with small tables such as 45° Grado by Ron Gilad and Attico by Gallizia, create a welcoming living space, framed by the Palette rug. The 505 UP is paired with the Piccadilly armchairs to create a welcoming lounge area.
The journey through a world of materials culminates in a nighttime area, featuring Ribbon bed and the iconic Gio Ponti's writing desk D.847.1, completed by the Palette carpet by Nicola Gallizia. A composition of the Hector night creates the perfect wardrobe to match the high-end feeling of the space. The result is a highly impactful setting that exhibits and enhances the Molteni&C collections, creating a warm, vibrant and experiential space.