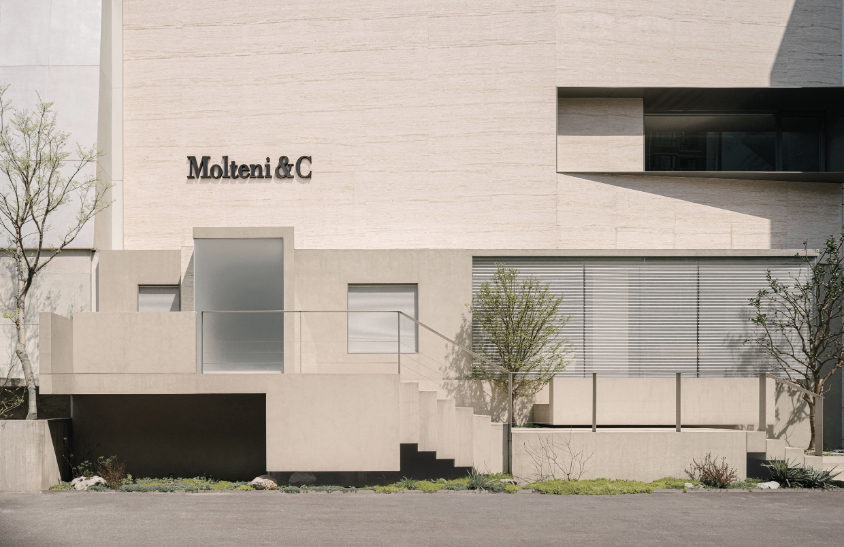 A space full of emotions, where brand design and urban architectural elements intertwine, creating a warm and tasteful living atmosphere. The flagship store newly opened in Ningbo city is Molteni&C's brand new showroom and a model of brand inheritance and innovation. Molteni&C Ningbo flagship store was designed by OUTIN.DESIGN. The showroom design emphasizes the brand's gentle temperament and unique design philosophy, creating a display space full of emotional connotations. The showroom integrates with the city, and the construction rules inside and outside the space emphasize the close connection between the showroom and the city, presenting a continuation of urban architecture.
The showroom adopts the form of cabinet building to display products, which creates an emotional atmosphere of residence and spatial order that echoes the brand allowing the viewer to feel the warmth and humanity of Molteni&C.
The gentle texture, soft tones and natural light of the entire space together create a warm visual image in which sensual emotions can grow quietly. Careful consideration of different levels of detail in hues, light and materials has been considered to highlight the lines, materials and textures of the products, creating a simple and pure atmosphere for living, allowing the mind to flow naturally with the brand space and showing the gentle way Molteni&C communicates its philosophy to the outside world.
The Molteni&C products interact with the space, which alleviate the sense of boundary and create a classic separate yet continuous aesthetic. The walk-in closet acts as a transitional space area in the residence as a checkroom and a place of interaction to welcome the customers to an unknown field and perceive the charm of Molteni&C in the space. The emotional anchor of the brand space is not a simple product display, but on top of the shaped spatial tone, the atmosphere of the residence is enclosed with various products to trigger the emotional resonance of the visitors.