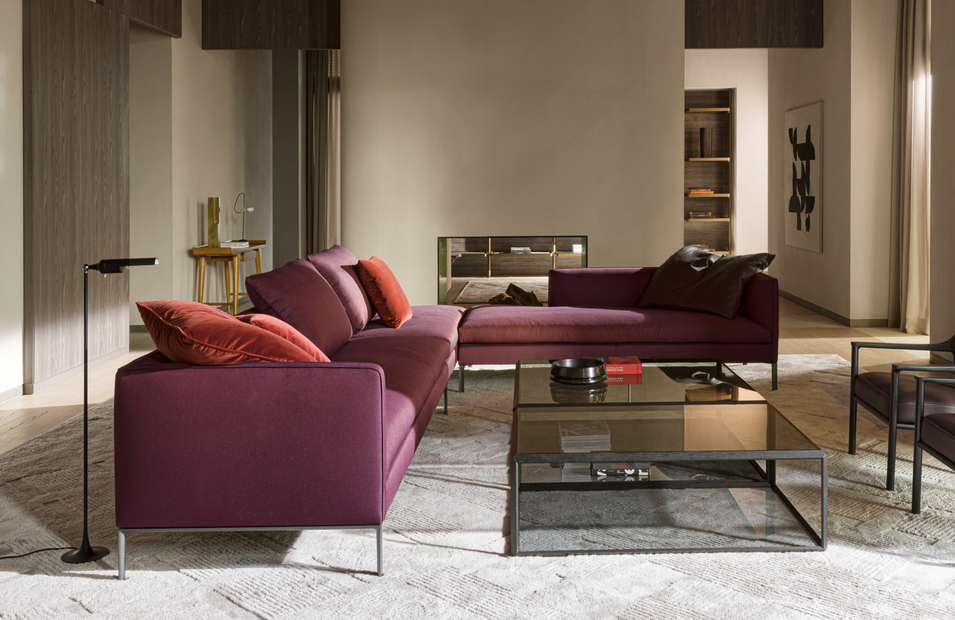 A fair relationship between technological progress and the respect for natural resources is increasingly becoming an element of primary importance for development in every field of human activity, and particularly for the construction industry and for systems connected with living and office spaces.
The Molteni Group has always placed great emphasis on the concepts of quality and durability of its products.
/01 Give life to the product.
At the end of their life, the disassembled objects can be easily recycled. Natural materials such as glass and stone can thus be recovered through a virtuous process of circular economy. In addition, the quality of the materials to be used is carefully assessed during the design phase, with the aim of avoiding as much as possible the use of non-recyclable materials or materials from highly polluting production cycles.
/02 Processes to protect the environment.
Other key aspects such as worker safety, healthy working environments and energy saving are also at the heart of the process. Some examples are the use of water-based paints for the lacquered components, the use of wood components and veneers from FSC (Forest Stewardship Certificate) certified plantations to protect the world's forest heritage. We have efficient extraction systems for all wood particles resulting from processing, which are sent to the company's thermal power stations to create energy and clean heat.
/03 Company sites.
In line with the company's policy of containing and rationalising energy consumption, three company sites, Turate, Verano Brianza and the Upholstered Division in Giussano, have been equipped with photovoltaic systems positioned on their roofs. They produce the energy needed for lighting and air-conditioning in the offices and part of the factory. The factory, therefore, has become a producer of electricity, moving from a pure consumption to a strategic role of self-production.
2021 brings new projects that contribute to the sustainability of our planet.
A new eco-friendly upholstery.
Exclusively for the Paul sofa system, the project marks an important step towards the use of more environmentally friendly goods. The new fibre is synthetic, in 100 % recycled and biodegradable polyester. Designed to return to nature, it provides a holistic and sustainable solution for product wear and eventual end of life.
A new fabric in collaboration with Kvadrat.
The new Reflect textile designed by Patricia Urquiola is a extremely sophisticated, with a characteristic diagonal pattern.
It comprises a collection of 23 colours in a 100% recycled yarn from PET bottles. The fabric is manufactured using a process that is much more efficient than that of virgin polyester, as it uses less energy and chemicals, as well as minimising CO2 emissions. As a result, Reflect is ideal for those looking for a fabric with a significantly reduced environmental impact.
Packaging is also part of the product industrialisation process.
A project that has just been launched will soon lead to the total elimination of all packaging derived from petrochemicals such as plastic and polystyrene, replacing them with materials of natural origin, mainly derived from cellulose or wood.