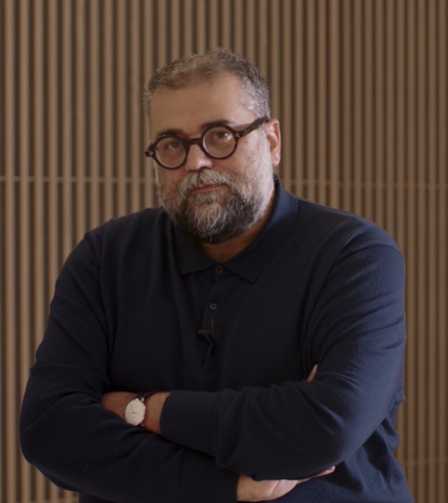 Modernity according to Stefano Salis, Maria Cristina Didero, Giuseppe Lupo and Deyan Sudjic.
BIOGRAPHY
Sardinian from Sant'Antioco (1970) Stefano Salis is a journalist at Il Sole 24 Ore, where he is responsible for the Comments page. He regularly deals, in the Sunday supplement, with bibliophilia, publishing, art, design and literature. He has held conferences on these topics all over the world and university journalism courses at the University of Milan and at the Cattolica. Among his contributions in book form we mention the curatorship (with Barnaba Fornasetti) of Piero Fornasetti . Certain screens have been designed twice (Henry Beyle). His latest book is On the Chessboard(Franco Maria Ricci editor). A book on stones by Roger Caillois (Franco Maria Ricci) is soon to be released. He is on the board of directors of FMR magazine.
Modern is having an attitude of understanding and empathy with what we surround ourselves with, with what is needed to keep us in a context, ours. New ways of living, which will certainly come, are the great opportunity facing those who today are confronted with the dimension of a social and cultural experience that must find different solutions to new problems, and innovative solutions to problems that recur. A great philosopher like Zygmunt Bauman wrote in "Liquid Modernity": "One feels free to the extent that the imagination does not exceed real desires and neither of them exceeds the ability to act". Imagination, reality, ability to act, desire: within this cloud of words we move with the awareness that yesterday's limits are today's realities, and tomorrow's possibilities are our desire to tirelessly design a new vocabulary of words, things, and even people. The rites of a secular liturgy that speaks to our spirit in surprising and reliable ways. Modernity is not a finish line, but the next piece of the road.
BIOGRAPHY
Born in Lucania, Giuseppe Lupo lives in Lombardy, where he teaches Theory and History of Literary Modernity at the Catholic University of Milan. In 2018 he won the Viareggio Prize with Gli anni del nostro enchanto and in 2011 the Campiello Selection Prize with The Last Bride of Palmira . He is the author of numerous other novels, including Celenne's American , The Zanardelli caravan , Cloud travellers , The tree of rooms , Brief history of my silence and Tabacco Clan (2022). He has published several essays on 20th century culture and industrial modernity. His latest book isMisunderstood modernity (2023). Collaborate on the cultural pages of the «Sole-24Ore».
In fact, no one today thinks back to the twentieth century without the ideological questions that have arisen with the eruption of technology. We do not know modernity, but its reverberations, we measure its effects that were there for all to see and took shape in the multiplication of objects produced in factories – from furnishing components to household appliances, from cars to clothes – children of an ancient artisan know-how, which the factories have been able to encourage and enhance thanks to design, thus creating that unmistakable style which has been given the Made in Italy label. In just under fifteen years, Italy has been able to radically renew its image of itself in the world: from a poor and defeated nation, from a homeland of emigrants to a cradle of the good life, a school of elegance and refinement.
BIOGRAPHY
Deyan Sudjic is a critic and writer. He edited Domus magazine in Milan, was director of the Venice Architecture Biennale and curated exhibitions in London, Istanbul, Copenhagen and Seoul, on subjects ranging from Stanley Kubrick to Zaha Hadid and Paul Smith. His book The Language of Things has been published in ten languages, including Italian (Il lingua delle cose, Laterza 2009). He is the editor of Anima, a new design magazine launched in April 2023.
Modernity was once the cantilever chairs in tubular steel. Buckminster Fuller rightly mocked the modernists of the Bauhaus school because they were only concerned with what they could see in their world, because they designed faucets without caring about the pipes and the engineers who supplied them with water. The English critic Reyner Banham, still in the 60s, predicted a future in which furniture would disappear completely. In many ways, we are in an era where objects have dematerialized, as he hypothesized. We must seek new ways of being modern, and modern ways of finding the comfort we have always sought in our physical possessions, that ability they have to reflect our life and our memory.