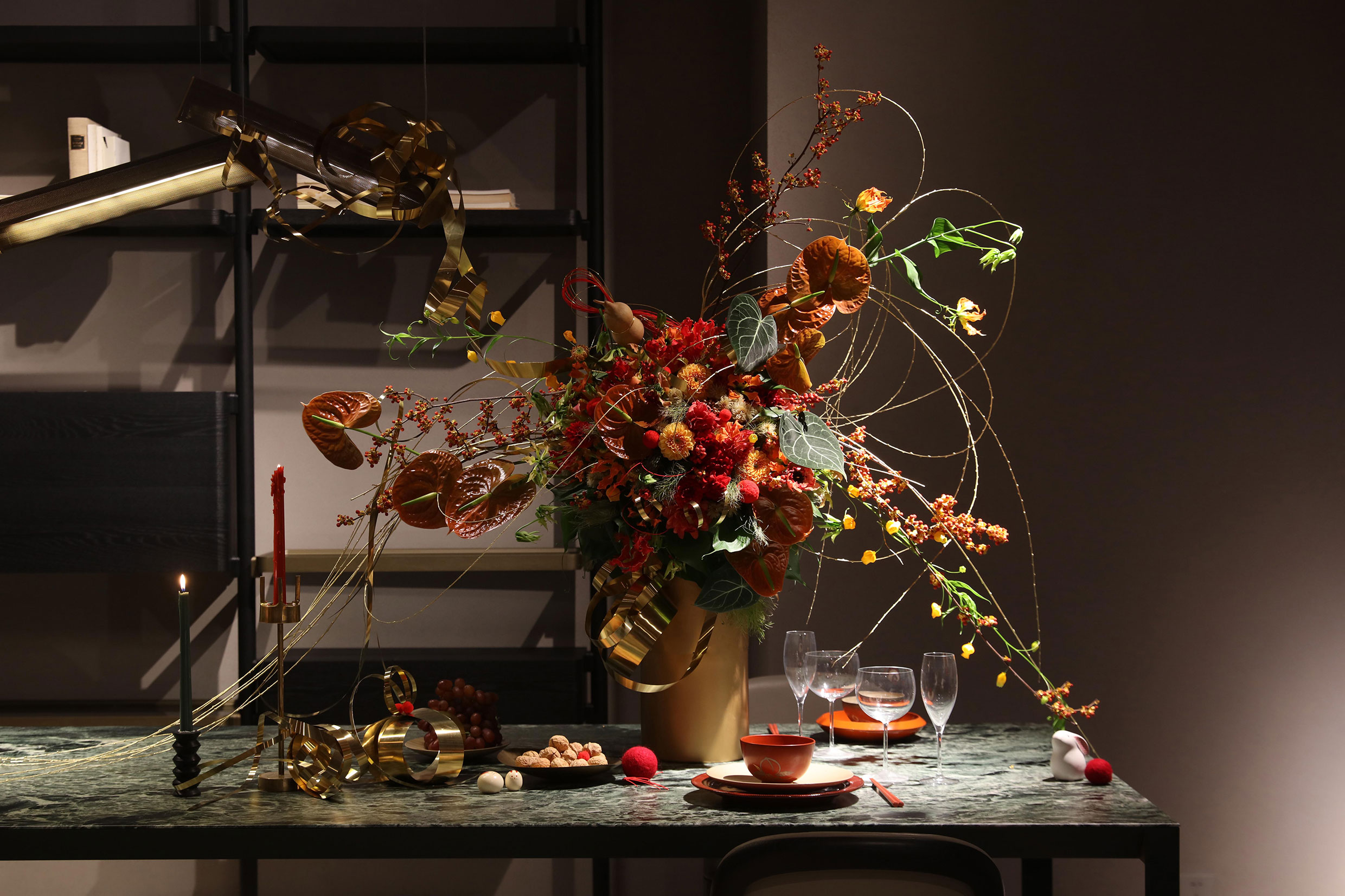 Colors: Gold and red create an auspicious harmony
The color of the morning's first ray of sunshine, gold is a symbol of brilliance and prosperity. Chosen in honor of the Chinese New Year, gold and red together offer a positive omen for the months to come.
The table's convivial mood is underscored by the use of red and gold with orange and green accents that echo the nuances of the Half A Square table by Michael Anastassiades. Evoking a warm and harmonious atmosphere, the colors blend timeless elegance with modernity.
Objects: Tradition with a contemporary touch
Flowers were not only chosen for their shape and hue, but for their significance in Chinese tradition. A symbol of warmth and joy, the Flame Lily is a very festive flower. Its spackled colors combine with the Chinese Lantern Lily's (Sandersonia aurantiaca) tiny orange lanterns in a delicate ode to prosperity.
A fluffle of porcelain rabbits hop amongst the place settings, heralding the arrival of the Year of the Rabbit. In a traditional gesture, the table is adorned with a Húlu pumpkin and a golden metal ribbon. The Chinese word "Húlu " similarly pronounced 'fúlù', signifies happiness and wealth. The metal ribbon is an interpretation of Chinese knotting, adding yet another festive touch.The table setting is a contemporary expression of Chinese tradition and culture for the most important holiday of the year — a modern reinvention to animate the traditional celebrations. Permeating the décor is the feeling of anticipation to reunite among family and friends.
Attitude: A firecracker beginning
Teeming with flowers, the round floral centerpiece is the star of the Lunar New Year table, representing the perfect synthesis of harmony and union. Dazzling orchids, small, sparkling lanterns, and golden willows bloom one after the other, intertwined with ornate bows. The elements dance in unison, eagerly welcoming a '2023 that brings people and the world together'. The finishing touch is a splendid firework, blossoming with enthusiasm on the Molteni&C table. The Spring Festival, the Chinese New Year: Every excuse to gather in good spirits is welcome!
Seven | Floral installation artist, independent curator and stylist
Her vocation is turning common things into amazing experiences. Her artwork tells a philosophy and a way of life more than just aesthetic sense.